If the rituals of the Episcopal Church are unfamiliar to you, relax and let the community of worshipers carry you. For those with gluten free or allergy needs, a separate chalice of wine is set aside together with a paten of gluten free bread (wafers). Please let the usher know if you have gluten free or allergy needs.
Services:
10 am Sunday Holy Communion Rite II services for most of the liturgical year.
Holy Communion Rite I services offered during the seasons of Advent and Lent.
7 pm Wednesday Evening ZOOM Compline Service (If you wish to join, please contact the church.)
Additional Mid-Week or Holy Communion Services:
12 pm Ash Wednesday Service with the distribution of ashes
11 am Good Friday Stations of the Cross
12 pm Good Friday Service with distribution of communion from the reserve sacrament
10 am Easter Service
4 pm Christmas Eve Service
Linus Oakes Retirement Village, Roseburg (see map)
In-person services are currently suspended due to
COVID-19 state and agency recommendations and precautions.
All services are held in the chapel at 3 p.m.
Holy Communion Service First Saturday of each month
Ash Wednesday Service
Good Friday Service
Easter Service



What do Episcopalians believe?*
God is with us – all of us. As Episcopalians, this reminder is woven throughout our worship services and compels us into lives of faithful action in our communities and worlds, seeking and serving the image of God that is found in every person.
As members of The Episcopal Church our worship is grounded in the liturgies* found in the Book of Common Prayer (BCP). No matter what church you find yourself in, this red book greets you with a wealth of devotional resources and information about the Sacraments of our common spiritual life.
The focal point of our worship services is the Holy Eucharist (also called Mass, Communion, or the Lord's Table). In this Sacrament, we come together as the family of God to receive the bread and wine, acknowledging our unity with God and each other, and anchoring ourselves in the holy love that strengthens and nourishes us.
In our Baptismal Covenant, which we repeat several times throughout the year, we make the promises that guide how we put our faith into action:
We will continue in the apostles' teaching and fellowship, in the breaking of bread, and in the prayers.
We will persevere in resisting evil, and, whenever we fall into sin, repent and return to the Lord.
We will proclaim the Good News of God in Christ by word and example.
We will seek and serve Christ in all persons, loving our neighbors as ourselves.
We will strive for justice and peace among all people, and respect the dignity of every human being. (BCP p. 304-305)
*The above passage is taken from the Diocese of Oregon website – "What We Believe" page.
At Holy Spirit Episcopal Church our worship is taken primary from the Rite II service of the BCP and from the 1982 Hymnal, although during the penitential seasons of Advent and Lent Rite I may be used.
Holy Spirit's Seybold Reed Organ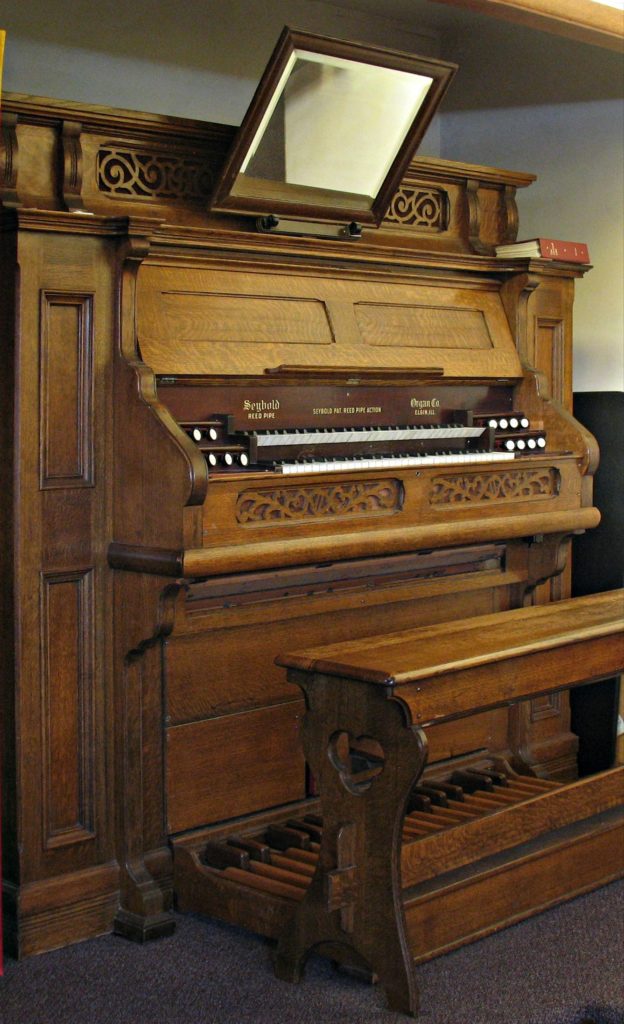 William Seybold** invented a four-chamber reedbox which gave the ordinary organ a quality of tone resembling that of a pipe organ. He died not long after moving his operation from Chicago to Elgin, Illinois late in 1903, but the Seybold Reed Pipe Organ Company was continued under local ownership. Pianos were added to the production line in 1908 which soon became the preferred instrument bought. The outbreak of World War I in Europe wiped out much of the foreign market. The Engelhardt-Seybold Company declared bankruptcy in 1915 and the Elgin factory closed.
Holy Spirit's Seybold Reed Organ was transferred from St. George's in Roseburg to Holy Spirit in the 1950's. On July 15, 2003 Robert Gault, one of a handful of reed organ service men disassembled, repaired and then assembled the organ to produce the sound you hear today.
**http://elginhistory.com/dgb/ch14.htm (scroll down to Pianos and Organs)